The Dinosaurs of Today and Tomorrow- Penguins
15 Replies
Add A Reply
Forum Topic
2K
Member
3687 XP
Jun-18-2015 5:05 PM
Yet another new series from em to you guys! I believe it is rather sad that people don't take too much time in thinking about the beatiful dinosaurs that are still around today!
Birds.
I believe we can learn and better imagine about dinosaurs if we simply study these animals. To do so, I will look on a different class of birds each time.
And what better way to start with other than...
THE PENGUIN.
I hope you enjoy.
***
Mostly known for their cuteness and uniqueness compared to other birds, penguins truly are actually amazing animals!
Click HERE to view all species of penguins!
The fact is, since all birds are dinosaurs, that makes the common penguin (all 18/19 species alive today!) a dinosaur!
Certainly penguins don't have the look of a Velociraptor or that of a T. rex, let alone a "6-foot turkey," but penguins actually have an amazing history that has been deeply explored through by todays scientists.
First, let's look at their evolutionary roots.
First, penguins have actually been around for over 60 million years!!!
It is suggested that the definite ancestor of penguins actually was alive before the end of the Creatceous Period!
It is believed that the penguin evolved from a common ancestor (an early bird that flew) and eventually over time, became what they are today. Penguins eventually became flightless, but it did take a while for that to happen.
Why did they become flightless? Well, their wings needed to adapt to be able to swim and propel through the water, most experts agree today. Over time the wing eventually formed the "flipper" and allowed to hunt in the water.
Some prehistoric penguins have been found, especially in New Zealand.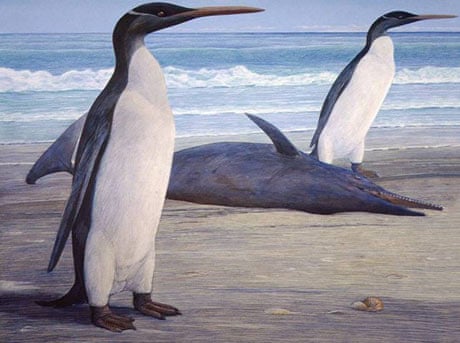 (Above photo is a reconstruction of what the Kairuku penguin would have looked like. The fossil of the animal was discovered in New Zealand and dated back to approx. million years ago. More info of the animal will be down below.)
Scientists actually estimate that there are at least over 40 extinct species of penguin. While this may seem sad, it is understandable that some penguins couldn't quickly adapt to the environmental changes or were probably excessively hunted by co-existing predators.
Not to mention there was a species of penguin called Palaeeudyptes klekowskii that would have been taller than most humans!
Penguin evolution is still being looked at today. Now let's look into what's is interesting about them.
FUN FACTS:
-The Gentoo penguin can reach speeds up to 22 mph
-Contrary to popular belief, some penguins thrive in tropical climates such as the Galapagos penguins
-The Waimanu penguins lived about 60 million years ago, surviving for a very long time
-Many penguins will spend the rest of their life with the same mate, season after season
-Emperor penguins will mate within a group of a 1000 other penguins
-Many penguins will make distinct calls that their partner will recognize and come to
-Shortest penguin is the blue penguin
-The Evolution of penguins can be used of evidence that some or maybe one species of the avian dinosaurs survived the extinction
-In most species, the male penguin will build a nest and start shaking to attract a female, and when he attracts a female, he will raise his beak and honk, and if the female honks back, the penguin will then form a pair
-Some penguin pairs will announce their new relationship by making loud noises to the other penguins
-The Male Emperor penguin will starve himself when taking care of his egg, sometimes not literally eating anything for two months, to ensure no movement will harm or ruin the egg
-Penguins are pretty freaking awesome
So what will be the future of penguins? Will they all sadly die out if humans destroy their environment? Will natural selection choose to make them history? Will the evolve into something that we will never see?
The answer is unclear, though these creatures are endangered.
Just shocking, am I right? (*sarcasm warning*)
Thanks for reading! Please leave a reply, any comment is appreciated.
For more info:
http://www.penguins-world.com/penguin-evolution/
http://www.theguardian.com/science/2012/feb/29/giant-penguin-new-zealand-kairuku
http://www.theguardian.com/science/2014/aug/04/giant-penguin-fossil-antarctica
http://www.wired.com/2010/09/inkayacu-perus-giant-fossil-penguin-and-the-stories-its-feathers-tell/
http://mentalfloss.com/article/56416/21-fun-facts-about-penguins
http://animals.nationalgeographic.com/animals/birds/emperor-penguin/
http://blogs.scientificamerican.com/guest-blog/5-things-you-never-knew-about-penguins/
IT'S TIME TO DU-DU-DU-DU-DUEL!!!
15 Responses to The Dinosaurs of Today and Tomorrow- Penguins
Add A Reply
Sign in to add a reply to this topic!