Forum Topic
Today I am going to give you My opinion of who would win a fight between these two Dinosaurs with Brother like names!.
Tyrannosaurus Rex:
Height: 15 Feet
Length: 38-42 Feet
Weight: 8-9 Tons
Speed: 17 MPH
Bite Force: 6.5 Tons
Diet: Large and Armored Dinosaurs
Tyrannotitan:
Height: 14 Feet
Length: 37-43 feet
Weight: 7-8 Tons
Speed: 18 MPH
Bite Force: 2-3 Tons
Diet: Large and Small Sauropods
Advantages for Tyrannosaurus Rex:
Stronger Bite
Smarter
Better Smell
Better Eyes
Stronger Skull
Bulkier
More Experienced Fighter
Advantages For Tyrannotitan
Slightly Larger
Slightly Faster
More Functional Arms
Slashing Bite
FIGHT:
T Rex Walks into the plains where he spots his next prey item across the plains a Tyrannotitan is doing the same thing. T Rex relizes he could get the jump on the Tyrannotitan when he has his eyes on the pack of Edmontosaurs, So he takes that opening and charges at him full speed, Tyrannotitan feels the stomping and moves out of the way with his eyes on the side of his head, T Rex uses vibrations to try and stun the Tyrannotitan,but Tyrannotitan is not Fooled and turns his body around and bites the T Rex's right leg and drives his teeth into his flesh, The T Rex shakes his leg and kicks at the the Tyrannotitan, T Rex finally Breaks Free and Rams the Tyrannotitan in the chest knocking the win out of him, Tyrannotitan snaps at the T Rex but its no use, T Rex Gets the Tyrannotitan's Neck in his mouth and with the Bite Force of 6.5 Tons Per Square Inch He Crushes the neck bones of Tyrannotitan, And Kills him, T Rex Drags The Tyrannotitan's Body back to his nest and begins to feed her young.
Winner: Tyrannosaurus Rex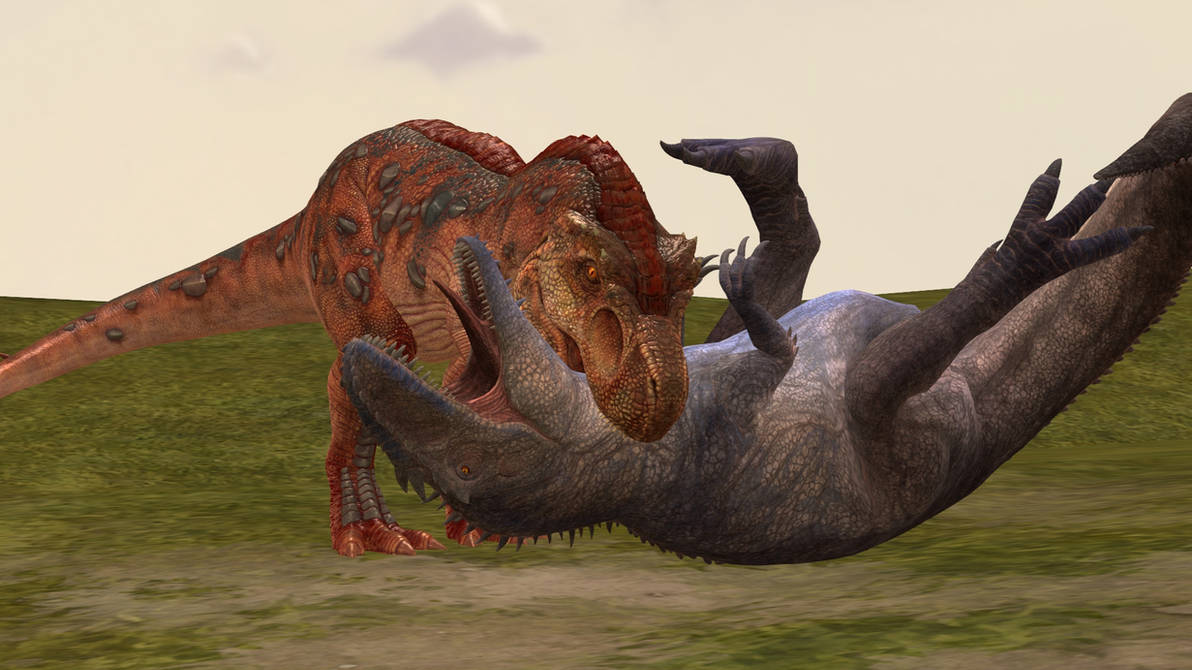 The Tyrannosaurus Rex had more years to evolve than the Tyrannotitan, It's Strength was to much for the Tyrannotitan To Handle. But who do you think would win?
Youtube Channel: James Inkton 2 
Subscribe for future projections!
"A Dino Doesn't Win
Because of Popularity, It's Because of Science"
James Inkton, August 28th, 2019.
4 Responses to Tyrannosaurus Rex vs Tyrannotitan
Add A Reply
Sign in to add a reply to this topic!