Forum Topic
Today i am going to give you my opinion of who would win a fight between these two APEX Predators Ok Lets start with Megalodon.
Megalodon
Length: 60 Feet
Weight: 60 Tons
Speed: 20 MPH
Bite Force: 18-20 Tons
Diet: Large Whales, Large Fish, Turtles and Dolphins
Now Lets go to Pliosaurus
Pliosaurus: 
Length: 43 Feet
Weight: 50 Tons
Speed: 30 MPH
Bite Force: 15 Tons
Diet: Medium Plesiosaurs and crustaceans
Advantages for Megalodon:
Larger in size
Stronger Bite
Better Smell
Better Sense
Bulkier
More Agile
Advantages for Pliosaurus:
Faster
Better Hearing
Slightly Smarter
FIGHT:
A Megalodon finishes Killing a Cetotherium by biting its stomach and the smell rings out in the water, Pliosaurus sees the Megalodon eating a Cetotherium and decides to attack it, Pliosaurus dives deep and looks up and charges head on, Megalodon feels movement below him and moves out of the way due to its better sense organs, Megalodon then swings around and rams Pliosaurus away from the carcus. Pliosaurus charges and fails to get a bite on the Megalodon, Megalodon swings around again and bites the left flipper off of Pliosaurus, Megalodon then dives deep and looks up at its opponent and charges strait up Megalodon bites the stomach of Pliosaurus, the only thing Pliosaurus sees is the open jaws of Megalodon, as organs spill out from Pliosaurus, Megalodon begins the massive feast on both the Pliosaurus and the Cetotherium. The End.
Winner: Megalodon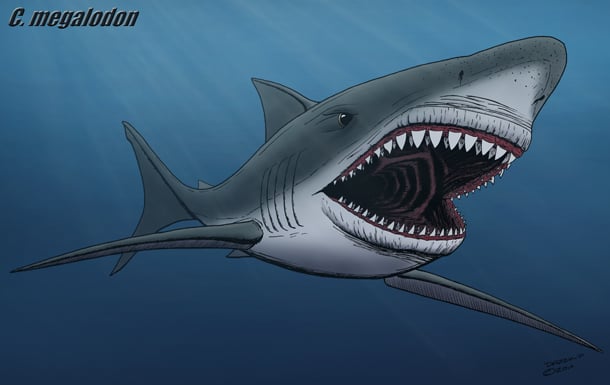 The Megalodon was the bigger Fighter and had better senses which could maneuver out of the way of Pliosaurus in no time, if Pliosaurus was fast enough it could've ended the battle early but with Megalodon having more fighting experience eating toothed whales, it would've tore Pliosaurus to pieces.
3 Responses to Megalodon vs Pliosaurus
Nice fight, a bit short, but well written. I agree that Megalodon would beat Pliosaurus, the only way I'd see a Pliosaur standing a chance against a Megalodon is if it was the same size or larger than the Megalodon somehow. 
"If people weren't lazy, we'd get nothing done," TheLazyFish, January 30, 2019.
Np
"If people weren't lazy, we'd get nothing done," TheLazyFish, January 30, 2019.
Add A Reply
Sign in to add a reply to this topic!