Forum Topic
Gigannos
Species: Giganotosaurus carolinii
Length: 48 ft.
Height: 18 ft.
Weight: 10 tons
Gigannos, son of the Giganotosaurus Tornado. As an infant, he watched as his father was brutally murdered by the Tyrant Thunderstorm, which would instill him with a deep hatred of all Tyrannosaurus rex, and he would vow to kill Thunderstorm--or die trying. However, he would never get the chance to kill the Lightning Rex, filling him with rage and despair--until one day, his olfactory bulbs caught a scent--that of the Vengeful Rex. The smell of Tyrannos was similar to that of Thunderstorm, and he knew, in an instant - this was his son.
Mako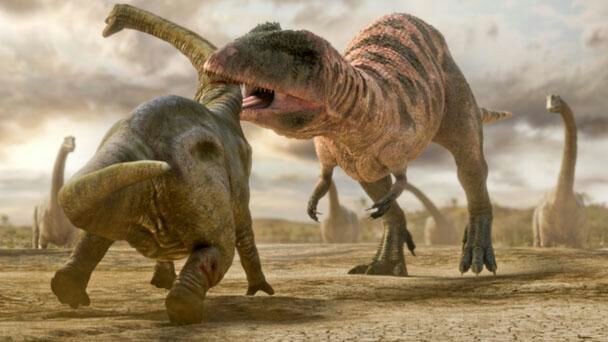 Species: Carcharodontosaurus saharicus
Length: 47 ft.
Height: 17 ft.
Weight: 11 tons 
However, this giant, and this tyrant, are not the only ones involved in this--for two Carcharodontosaurus, Mako and Sahara, watched their parents as they were killed by Tornado, filling them with a hatred of all Giganotosaurus. They were there the day Thunderstorm took back what was his, and from then on, it was as if these two pledged allegiance to his bloodline--but they still wish to kill any Gigas of Tornado's lineage--and Gigannos is no exception.
Fang
Species: Spinosaurus aegyptiacus
Length: 60 ft.
Height: 20 ft. (head); 27 ft. (sail)
Weight: 9 tons
Fang, a Spinosaurus, who followed in the footsteps of the legendary Spined Pharaoh, Egypt. His search for peace and struggle for survival brought him to Dhahabi'ard, where he hunkered down in the waters of Corinae--but was quickly dragged into the conflict between Gigannos and Tyrannos. Which side, will he choose--the southern giant, or the northern tyrant?
Tyrannos
Species: Tyrannosaurus rex
Length: 50 ft.
Height: 18 ft.
Weight: 15 tons
Tyrannos, son of the Tyrant Thunderstorm, and the Vengeful Rex. Ever since he defeated his treacherous uncle Hurricane, he ruled the Trinity Peaks with Tyrannas, Tyrus, and Tyra by his side, the four unopposed--but that is about to change, with the rise of Gigannos. With his throne, as well as his life, in danger, can the Vengeful Rex, do it once more? Can he truly live up to his mantle? We will see, in
The Vengeful Rex II
"Part of the journey is the end..."
5 Responses to The Vengeful Rex II Preview
Add A Reply
Sign in to add a reply to this topic!