Megalodon vs Pliosaurus Macromerus
21 Replies
Add A Reply
Forum Topic
Dynamosaurus Imperiosus/ Raptorexxx 700
Member
3 XP
Jul-24-2016 5:43 PM
2 days have passed since an old male Megalodon shark cannibalized another after it had suffered crippling wounds at the hands of a Mosasaurus. The carcass is still mostly uneaten, but the Megalodon is still circling it in order to feed whenever he pleases, yet ever since he had his meal he feels uneasy… like something is watching from the deep.
Megalodon: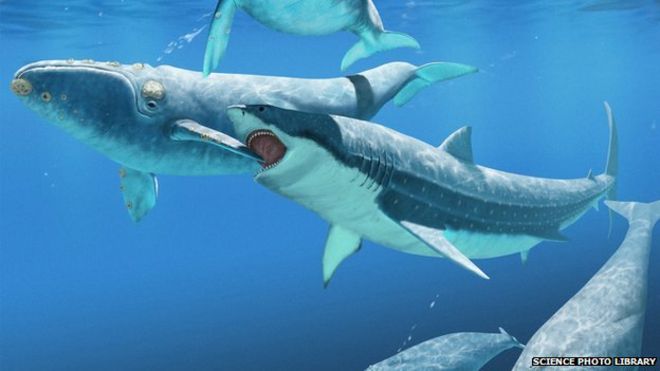 Length: 18.8 meters
Weight: 68 tons
Bite Force: 40000
Pliosaurus Macromerus:
 Length: 19 meters (63 feet)
 Weight: 87 tons
 Bite Force: 35000 - 53000 psi
Its now almost midnight and The Megalodon is scanning his territory in search for a mate, but no matter where he goes his electro receptors are still picking up the same anomaly. A few hours later and it just disappears, the shark thinking that it was probably a shoal of fish continues on like nothing happened, but in the matter the signal is back, stronger than ever and is heading right for him from beneath, he immediately changes direction and goes right, trying to swim away from whatever is following him, but he suddenly realizes that he's heading right for the carcass that he values so much he turns around to face the attacker, to his shock he sees something that he never thought he would ever see.
 A fully-grown Pliosaurus Macromerus is heading right for him (Pliosaurs usually never make it to adulthood due to other predators trying to atop them from reaching their full potential, much like hyenas and lions). The Pliosaurus is swimming directly at him with all four flippers at speeds of up to 20 mph! The megalodon tries to ram it head on, but the Pliosaur is smart enough to slightly duck and swim directly under the Megalodon in order to avoid those gigantic jaws, but even the Megalodon's mighty bite is still weaker than those of the Pliosaur's 11+ foot long jaws. The Pliosaur swings his head upwards and is able to land a bite on the shark's pelvic fins, immediately tearing them both off.
 They both turn around again to face each other, with the Megalodon swimming with a pool of blood around him, the pliosaurus slows down and uses his front flippers only, but the Megalodon is swimming at top speed and is about to ram him head on the pliosaurus. Suddenly the Plioaurus changes direction and accelerates with all flippers towards the surface the cracks the ocean surface and leaps 30 feet in the air, and comes crashing down on the shark with all his weight. The Megalodon's spine bends and almost breaks from the stress caused by the 100-ton animal jumping on his back. The Megalodon is immediately sent into shock and takes a few minutes to recover.
 By the time he recovers, he looks around him and sees nothing, the Pliosaurus has disappeared, the shark seems baffled by this, suddenly the Pliosaurus emerges from beneath at top speed with his jaws around the Megalodon's skull, it exerts over 45000 psi of pressure on the shark's skull, the shark's skull can't handle the pressure and cracks. The shark dies instantly, while the Pliosaurus thrashes its body around like a ragdoll in order to deliver as much damage as possible. She feeds and is satisfied for months to come.
Winner : Pliosaurus
The Pliosaurus had the major advantage of being the hunter and stalking the Megalodon for the past couple of days also its elongated jaws gave it a slight edge of those of the shark. And to be clear this individual specifically is very old which explains its great size and mind boggling power. 
I hope you like these kinds of underwater battles, and if you do i can make it a series, of both underwater and land battles! :)
21 Responses to Megalodon vs Pliosaurus Macromerus
Add A Reply
Sign in to add a reply to this topic!