Forum Topic
Noob
Member
0 XP
Oct-07-2012 5:35 PM
Which one would win..
3 Responses to Berserker vs Falconer vs Tracker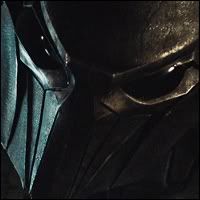 Noob
Member
0 XP
Oct-07-2012 5:39 PM
I am gonna say the falconer because in a way he has his own advantages.
[center][url=http://www.predators2-movie.com][IMG]http://i1062.photobucket.com/albums/t487/_xenomorphhive/Sig_zpsac603fba.png[/IMG][/url][/center]
Noob
Member
10 XP
Oct-10-2012 10:26 PM
I think the Berserker, he was already leading the party. I don't think Predators would follow a Predator that was weaker than them. Makes sense to me anyways.
Noob
Member
0 XP
Sep-03-2013 7:46 PM
From what I saw in the movie, the predators were more or less even, so I would go with Tracker because he leads the Predator Hounds. Without them I'd go with Falconer because of his advanced technology.
Add A Reply
Sign in to add a reply to this topic!