Forum Topic
Noob
Member
0 XP
Jun-18-2014 11:14 AM
Before i start, i'd like to ask you do not say "that's your opinion" or "every body has their opinion" on this list! This is the result of hours and hours of research!
To make things fair, the 'Fragmentary giants' from each species will not be factored into their respective sizes...just to many unknowns at the moment.
Anywho....let's kick it off, shall we?
5. Mapusaurus roseae
Family: Carcharodontosauridae
Length: 12.3 m
Height: 4.0 to 4.25 m
Weight: 5 to 6 t
Another giant Carcharodontosaurid coming out of South America. Mapusaurus was a giant, and what made that situation worse for the resident Sauropods is the fact these gigantic killers roamed in packs. A recent find saw the excavation of multiple individuals of varying sizes and ages, suggesting pack hunting behavior for the larger genus' of Carcharodontosauridae. The largest individual was around 10.3 meters long, yet a femur ~10% larger then that of the Giganotosaurus holotype points to an animal of around 13.7 meters.
4.  Giganotosaurus carolinii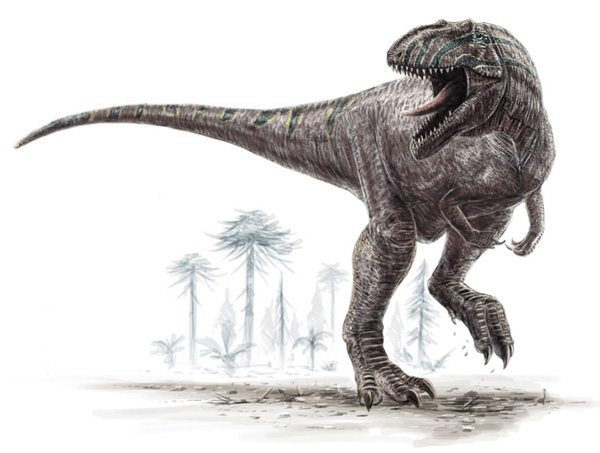 Family: Carcharodontosauridae
Length: 12.5 to 13 m
Height: 4.25+ m 
Weight: 5 to 7 tons
Discovered in the late 90's, Giganotosaurus was thought to be substaintially larger then Tyrannosaurus Rex. However, new evidence has come to light that shows it wasn't only slightly shorter, but lighter as well. The  holotype was recently estimated at 12.2 m and if the second specimen is 8% bigger (Which I doubt it is) that still barely puts it in the 13 m range. (But as we know theropod skull sizes vary, so it doesn't hold much weight.) So here's the latest from Scott Hartman and we can put this to rest now I suppose, Sue is 0.5m longer and most likely heavier than Giganotosaurus Holotype by a ton or two.Of course we know the giga paratype but it's too fragmentary, otherwise we'll have to use all the fragmentary UCMP and MOR T Rex specimens just to be fair
3. Tyrannosaurus rex
Family: Tyrannosauridae
Length: 11.5 to 13.2 m
Height: 4.25 m
Weight: 6 to 9 t (depending on which method you use)
We all know this animal; the star of the Jurassic Park films that has held a mainstream fixation for at least a hundred years. Estimates for this theropod have bounced around quite a deal, various studies have been conducted placing it at the ends of two extremes: ridiculously small and overly obese. The new 9-11 ton figured would produce something resembling a sausage casing rather then an apex predator. I myself did some calculations to get a better idea of how large Tyrannosaurus actually got. Averaging the length and weight of 10 individuals who are pretty well known, i got these results. The average tyrannosaurus would stretch the tape to ~12.24 meters and tip the scales at 7 tons. An impressively sized animal, indeed. It may not be ther largeest predatory dinosaur to ever stalk the earth, but it is the largest Tyrannosaurid as of today.
2. Carcharodontosaurus Saharicus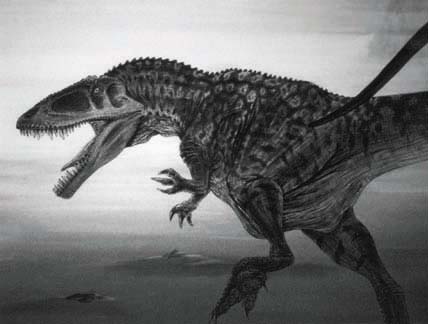 Family: Carcharodontosauridae
Length: 12.5-13.6 m
Height: 4.25 to 4.5 m
Weight: 7 to 9 tons
Carcharodontosaurus was a gigantic theropod; the largest of its family. It roamed Africa at the same time Spinosaurus did, although they would rarely ever come into contact let alone confront each other. That's just based on modern day animal behaviors though..Any way, Carcharodontosaurus was discovered in the early 1900's, yet wasn't really all that well known. The "African Skull" as it's sometimes referred to, was overexaggerated when first published. It was much closer to 1.5 meters as opposed to the 1.8 it was once thought to be. That's where the 15 meter, 12 ton estimates originated. Digging into it, and doing some calculations based off of the 144 cm skull, I got 12.8 meters and 8 tons for C. Saharicus. The 'maximum' skull length of 157 cm produces at a jaw dropping 15 meters and 9 tons.  A second species of Carcharodontosaurus cropped up in the 90's; C. Iguidensis. We have to call it Carcharodontosaurus iguidensis for now, it hasn't been assigned it's own genus yet. Something that boggles my mind is this, there are still those who maintain Giga and Rex are larger, how they do so in the face of evidence is beyond me..onto the next.
1. Spinosaurus Aegyptiacus
Family: Spinosauridae
Length: 16 to 18 m
Height: 5 m (7 m with the myscle ridge)
Weight: Indeterminate, probably between 9 and 12 tons
The size of this animal has been hotly contested for half a century or more now. The main issue with Spinosaurus is the holotype was bombed to dust in WWII. Other fragments have been found though, and they give us a basic idea of Spinosaurus' morphology. Basing off of related taxa, we also have a basic knowledge of its diet and possible behaviors. One ridiculous aspect when it comes to this animal is many think the holotype was a juvenile, which doesn't make much sense at all. They use that to 'prove' S. Aegyptiacus got to 18 m+. To any of those on this forum who believe this, i challenge you to provide me evidence of this...for i have not found anything of convincing nature to prove it. Spinosaurus sizes have been criticized by several paleontologist, but it's incomplete so we don't know how big it was. Estimates have varied between 12-18 m(Which is a big difference, just shows how little of it we have). Basing off the sestimated 1.75 m skull and  an 11 m Suchomimus, the math yielded a staggering 16 meters long and 10 tons in weight. Placing it at number 1 on this list.
This all can be debated, and if you feel like somethings wrong let me know!
Here's a neat image i found whilst doing this list..
"Our lives are in your hands and you have butterfingers?" - John Hammond
27 Responses to 5 largest Theropods
Add A Reply
Sign in to add a reply to this topic!