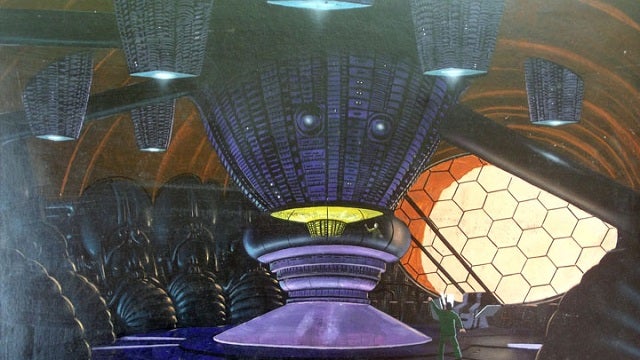 Can you imagine what type of film David Cronenberg would have made, adapting Philip K Dick's original source material? Cronenberg worked on the script development and overall concept for about a year, before leaving, when he realised his vision was not in line with what the producers were aiming for!
Whilst I enjoy Paul Verhoeven's entertaining version and Arnie's Doug Quaid, it was all pretty tongue-in-cheek and slightly over-the-top! Cronenberg would have made a serious, faithfull, more disturbing version for sure. The bodily malformations would have been gross and super cool! I'm sure it would have all been done in Cronenberg's very unique, inventive, intelligent style!
Here's a link to an interesting article where artist Ron Miller shares a ton of the concept art he created for Cronenberg's never completed TOTAL RECALL: io9.com
Alien May 25th, 1979
More about Alien (movie)
When the crew of the space-tug Nostromo answers a distress call from a desolate planet, they discover a deadly alien life form that breeds with a human host. And so the horror begins - a horror which will end the lives of six crewmembers and alter the life of the seventh forever. Sigourney Weaver stars as Lieutenant Ellen Ripley in one of the most suspenseful and powerful science fiction films of all time.
Directed by Ridley Scott, Alien's release date is May 25th, 1979.
Stay up to date with the latest news on Alien by liking Scified on Facebook and by following us on Twitter and Instagram! Also, consider subscribing your email to our The Lone Gunwoman blog for instant notifications of when new posts are made!
Written by Lone
Published on 2014-01-04 11:10:17