Since the inception of SimCity in the early 90's, we've travelled through time and space to build on alien worlds and in parallel universes—laying down roads, zoning land, playing god, and cheating our way to success in a vain attempt to construct a virtual utopia.
SimCity continues to follow popular trends and now users are able to build their own casino and start profiting. With a much smaller physical footprint, this new feature lets you maintain a bigger city, with essentially unlimited profit potential. You can put down as many casinos as you wish, which can allow you to make plenty of cash forever.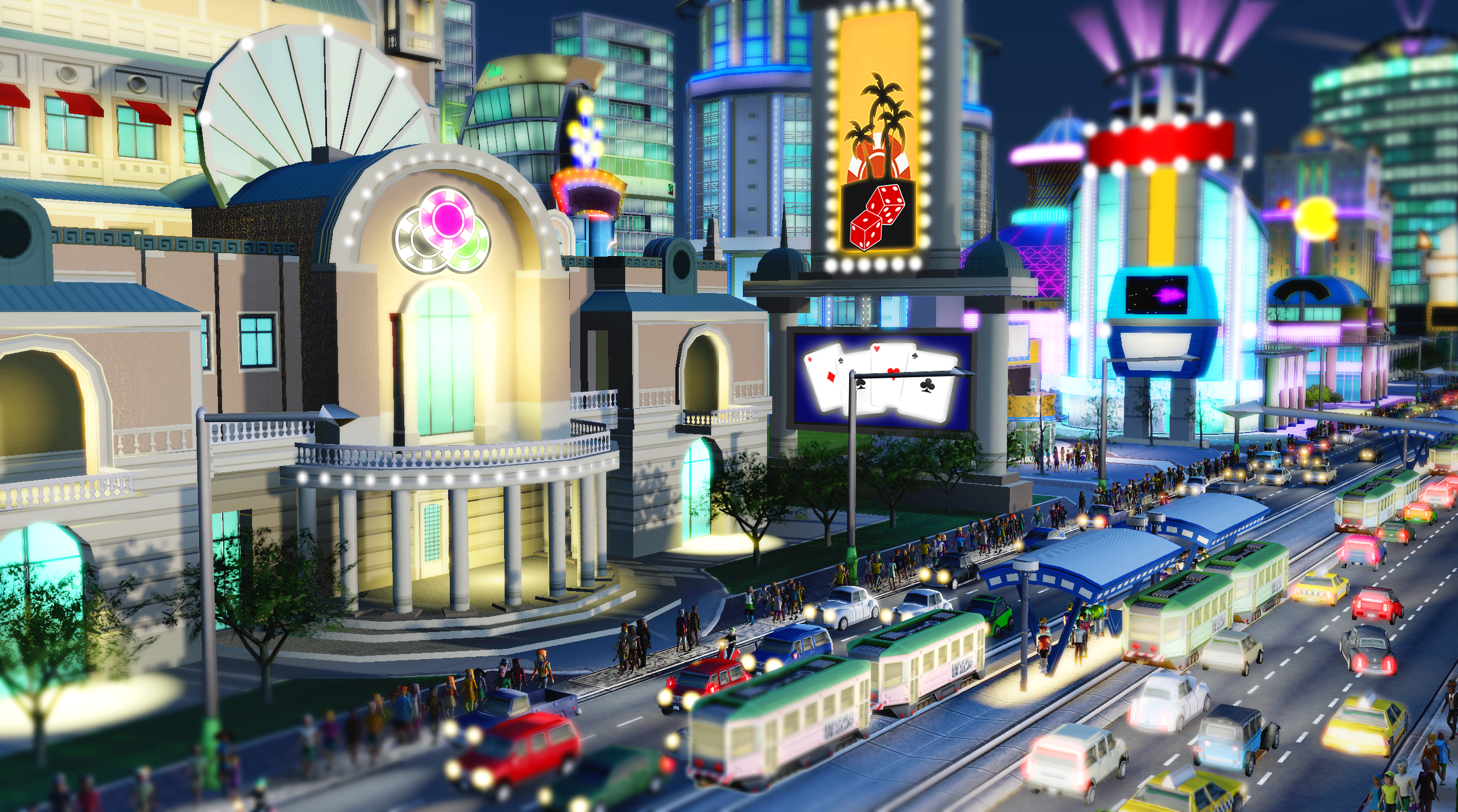 Keep in mind that it's called gambling for a specific reason. If you set up your casinos right and they're tourist friendly, you'll get plenty of income; but if your city isn't organized well, you may lose money. Be sure to keep your city as friendly to tourists as possible. 
Online casino platforms have certainly had an influence on SimCity and it's offerings, and it's not surprising. It is estimated that worldwide revenues from mobile gambling will top USD$100 billion by 2017, with an estimated 164million people using mobile devices to access online gambling by 2018.
Users can choose from a number of different themes for your casinos, such as the Sci-fi casino, the sleek casino, and the elegant casino. Each casino has different capacity, income, and costs, so keep these factors in mind as you decide which one to build.
When you've planned your city, go ahead and set up room for commercial zones. You will need 21 at a minimum to unlock the best area for your first casino. You can even create a specific gambling area that will house most of your casinos.
Remember that location is critical. You don't want to put it in the middle of town, since the traffic problems that prevent people from reaching your casinos will likely crop up. It's best to have access to a train station, ferries, nearby highway to make sure that you can get the most traffic to your casino.
Much like online casinos found throughout the web, SimCity casinos bring in tourists from all different wealth levels. However, gabling houses are only able to bring in medium and low wealth Sims, which can be your specific town citizens or tourists. If you have a lot of high wealth Sims in nearby cities, this will make it harder for your casino to start out.
Keep in mind that casinos by themselves will have some trouble making initial profits, which means you will need to add modules and check building pages of each casino to determine your plan. You should typically focus on just one type of wealth. For instance, if you want to focus just on low wealth Sims as a starting point, you might want to think about adding a comedy club, some nickel slots, and perhaps a few cheap rooms to let tourists have a place to stay during the night for additional modules.
This way, you'll get the most profit for low wealth tourists and can save up plenty of profits in order to place a second house. Then, you can outfit it with some blackjack tables, nice rooms, and a lounge to get medium wealth folks coming into your casino.
To determine your casino's current profits, just click on it and you will see a pop up box. This shows you how many tourists are in the casino, and how much it makes on the previous day; you will need to observe it in real time to see how it's currently during.
Treat Yourself to Sci-Fi Swag!
We've partnered with the folks at TeePublic to give fans the opportunity to support one another and express their interests by owning customized, unique merchandise based on their favorite science fiction franchises! Designs are created by fans and a portion of proceeds from each sale go to supporting the artists and their work! Check out the entire store and see if anything gets your attention!
Written by Chris
Published on 2016-02-09 12:09:23