Sorry for the wait, but we're back! First, let's meet our contestants:
Utahraptor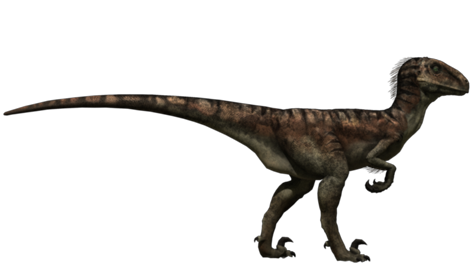 Utahraptor was a medium carnivore that lived in the United States in the Early Cretaceous. This individual is 7 feet tall and 22 feet long
and Carnotaurus
Carnotaurus was a medium carnivore that lived in Argentina in the Early Cretaceous. This individual is 10 feet tall and 21 feet long.
BEGIN!
    A Carnotaurus is wandering in a forest. He just ate, and was walking back to his territory. However, there's soemthing he didn't know: he was being watched. Something was out there, and it was almost as big as him. Suddenly, he heard a twig snap. He looked around, alert. After a few seconds, he continued to walk, but more wary. Then, the creature ran at him.
     A male Utahraptor leaped onto the Carnotaurus. The Carnotaurus roared. The Utahraptor bit down on the Carnotaurus's neck, but the dinosaur quickly shook itself free. Then, he shook off the Utahraptor. The Carnotaurus kicked it, and charged. He hit the Utahraptor's chest with head, pushing the air out of the dromaeosaur's chest. The Utahraptor shashed the Carnotaurus in the face with his claws, blinding it in the left eye. The Carnotaurus roared in pain, and it ran away.
     The Utahraptor followed it, and leaped onto its back. The Carnotaurus fell onto the ground, and the Utahraptor got off. he stomped his foot on the Carnotaurus's neck, and his large claw came down. It just missed the Carnotaurus's spinal cord. The claw slammed down into flesh. The Carnotaurus bellowed and rolled over. She got up and bit the Utahraptors snout. She shook it around, but the Utahraptor broke free. Then, it slashed the Carnotaurus's chest with his large foot claw. The Carnotaurus roared, and the Utahraptor prepared a final attack.
     The Utahraptor charged. It bit the Carnotaurus's neck and pushed it to the ground. The Carnotaurus kicked the Utahraptor, but this didn't do much. The Utahaptor brought down his large toe claw, and it slammed down onto the Carnotaurus's throat. He moved it down, and soon the Carnotaurus stopped moving.
     The Utahraptor screeched in victory. Then, it started eating. The dromaeosaur wasn't really hurt from the rather short battle with the Carnotaurus. It was just sore and tired. All he wanted was to eat and sleep; and that's what he was going to do.
Winner: Utahraptor!
The Utahraptor's speed, claws, and intelligence helped it win the round's first battle.