It's been almost a week, but here it is. First, let's meet our contestants:
Torvosaurus:
Torvosaurus tanneri lived in the United States (another species living in Portagual) in the Late Jurassic. This individual is 15 feet tall and 19 feet long.
And Triceratops:
Triceratops lived in the United States in the Late Cretaceous. This individual is 14 feet tall and 20 feet long.
                                                           BEGIN!
     A Triceratops in sleeping in a forest. It's alone now, which makes it easier to attack. It's not too easy to kill, with two three foot horns above it's eyes and a third, six inch horn on it's snout. In addition, it has a powerful beak. Soon, a Torvosaurus is ready to take the challenge.
     The Torvosaurus strikes the Triceratops, waking it up. The Triceratops is still weak now, but it can still fight. It charges the Torvosaurus, but misses. The Torvosaurus claws it, blinding it in the left eye. Now, the Triceratops is really pissed off, and it charges again. This time, it hits the Torvosaurus in the shoulder. It also snaps it's beak at the carnivore, crushing the Torvosaurus's left hand. The Torvosaurus roars in pain and runs off.
     The Triceratops returns to its peaceful slumber. After a while, the Torvosaurus returns. It bites the Torvosaurus' frilll, but this only awakens the Triceratops again. it rams the Torvosaurus, but just grazes the neck. Then, the Torvosaurus lunges at the Triceratops.
     The Torvosaurus lands on the Triceratops' frill and starts biting it. It stays here for a few seconds, but the Triceratops is able to shake it off. The Triceratops runs at the Torvosaurus, but it misses. The Torvosaurus takes this as an advantage and lunges again.
     The Torvosaurus is caught mid-air. It's vision begins to become blurry, and then it sees the horrible truth: it was impaled through the stomach area by ont of the Triceratops' brow horns. The Torvosaurus dies as soon as it realizes this. The Triceratops shakes off the corpse, and then returns to sleep.
Winner: Triceratops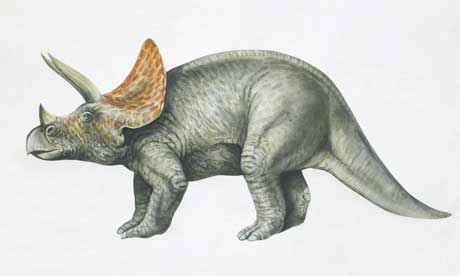 The Triceratops' brow horns helped it win.