Christopher "Chris" F. Foss is a British artist and Science Fiction illustrator. He is best known for his Science Fiction book covers, for authors such as Asimov, Arthur C. Clarke, A.E. Van Gogt, Philip K. Dick and E. E. Doc Smith. His artwork depicts gargantuan spaceships, future machinery and hardware. Chris first experimented with the airbrush in the 1960's and has become widely recognised in this medium.
Foss has published four compilations of his artwork: Science Fiction Art (1976), 21st Century Foss (1978), The Chris Foss Portfolio (1990), and Hardware: The Definitive SF Works of Chris Foss (2011).
He was also one of the major contributors – along with other British artists such as Angus Mckie, Chris Moore and Peter Elson – to the highly popular Terran Trade Authority series of books, published back in the late 70′s.
He also created concept designs for Jodorowsky's Dune, Alien, Superman, Flash Gordon and Stanley Kubrick's AI.
Update: Guardians of the Galaxy director James Gunn, loves his work so much, that he hired Foss to design the Spaceships for his movie.
Images sourced from starsword.files.wordpress.com
Foss produced a lot of work for Alien, which went unused, including Nostromo and derelict designs, and for the Alien Pyramid structure, which was later discarded from the production. Later of course, other artists were brought on board to work on different aspects of the film. H.R Giger worked on the derelict and planet, Ron Cobb designed the Nostromo, and Moebius designed the crew costumes and spacesuits.
Dan O'Bannon with Chris during ALIEN pre-production (Photo via gavinrothery.com )
In an interview with SHADOWLOCKED Roger Christian, who came to fame, as the ground-breaking art director of Stars Wars (1977) and Alien (1979) had this to say about Chris Foss:
"In Star Wars, there's a robot in the line-up with the sandcrawler when they're buying R2-D2 and C-3PO…I did do a homage, because I felt I should, to Chris Foss, because he did some very early designs for that and he was always a favourite of mine. So I made one and designed it up out of scrap as if it might have been in a Chris Foss painting, and that was my homage to him, because I always thought he was a genius as an artist."
Below is The "Foss Robot" as it appears in Star Wars.
Above images via: sideshowcollectors

Nominations: Locus Award for Best Art Book: 21st CENTURY FOSS
Link to his website: Chrisfossart.com
Above images via: Hubpages.com
Pyramid Design for Alien (Picture credit- annex.wikia.com)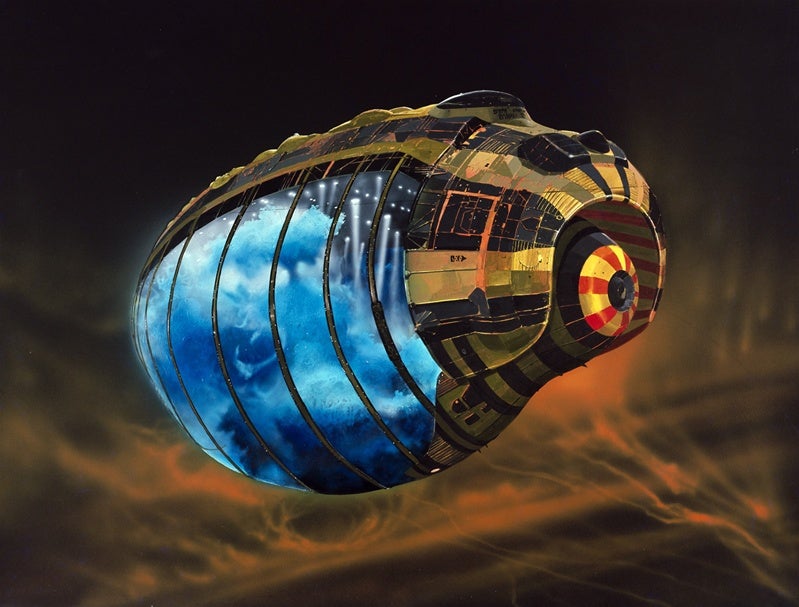 Spice Transport for Dune
 Dune artwork via the excellent duneinfo.com

Below are some unused designs for Flash Gordon via FILM SKETCHR
More about Alien (movie)
When the crew of the space-tug Nostromo answers a distress call from a desolate planet, they discover a deadly alien life form that breeds with a human host. And so the horror begins - a horror which will end the lives of six crewmembers and alter the life of the seventh forever. Sigourney Weaver stars as Lieutenant Ellen Ripley in one of the most suspenseful and powerful science fiction films of all time.
Directed by Ridley Scott, Alien's release date is May 25th, 1979.
Stay up to date with the latest news on Alien by liking Scified on Facebook and by following us on Twitter and Instagram! Also, consider subscribing your email to our The Lone Gunwoman blog for instant notifications of when new posts are made!
Treat Yourself to Sci-Fi Swag!
We've partnered with the folks at TeePublic to give fans the opportunity to support one another and express their interests by owning customized, unique merchandise based on their favorite science fiction franchises! Designs are created by fans and a portion of proceeds from each sale go to supporting the artists and their work! Check out the entire store and see if anything gets your attention!