7. Black 2 Team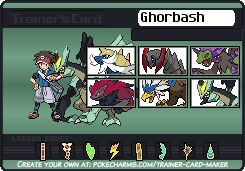 I don't like this team that much. Don't get me wrong, I actually like Unova a lot, but my team consisted of mostly Dragon and Dark types. Yes, I had powerhouses like Haxorus and Kyurem-B, but the team isn't that creative. Haxorus was my favorite team member.
6. SoulSilver Team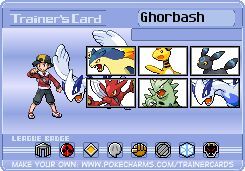 Here on out are the teams I love, starting with my Johto team. I love all the Pokemon I used. Typhlosion and Umbreon were awesome, Tyranitar and Lugia were beasts, and Ampharos is my favorite Johto Pokemon.
5. Sun Team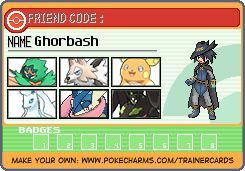 Next up is my most recent team. I loved Decidueye, although it was weak, and my favorite member was Greninja. My Alolan forms were great as well, and Zygarde was a beastly wall.
4. Y Team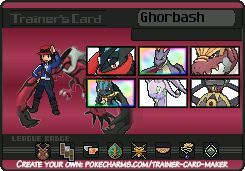 Although I'm not the biggest fan of the game itself, I did enjoy using the Pokemon I obtained throughout the game. I SR'd for a shiny Protean Froakie, and got it. I used Mega Charizard Y and Mega Lucario regularly, magnificently sweeping various trainers. My strongest member was probably Tyrantrum, tearing things apart left and right with its monstrous Attack and powerful moves.
3. Platinum Team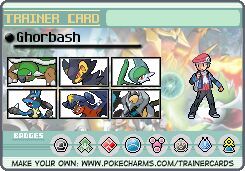 Ah, here comes the nostalgia train. I love this team for all the beastly Pokemon I had, particularly Lucario, Garchomp, and Giratina. Interestingly enough, my starter, Torterra, was my least favorite team member. Not that I don't like it, I mean, it is my fifth favorite starter. My favorite member was Gallade, although it wasn't the best.
2. Emerald Team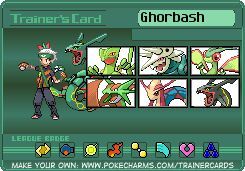 Going back to Hoenn, we have the first team I ever used. Sceptile is my all-time favorite starter, along with Rayquaza being my favorite legendary. Salamence and Milotic tore through opponents' teams, but Rayquaza had the most kills under its belt by far. Yeah, it may be half made up of Dragon types, but it is a powerful team.
1. Alpha Sapphire Team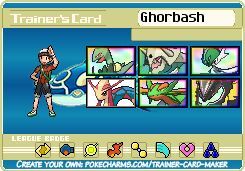 This is nearly identical to my Emerald team, but Flygon is replaced with Gallade. But I don't care, because I love this team like nothing else. The nostalgia was real with this team, and using five Megas was super fun. Gallade was used with False Swipe and Thunder Wave to catch the legendaries. I didn't hack the shiny Rayquaza, I used the one from the distribution. My strongest team members were definitely Rayquaza and Salamence. This is by far my favorite playthrough team ever.
"Ah, that's a thicc one" - Ken Wheatley