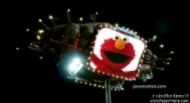 Member
0
Posted Dec-19-2016 11:09 AM
I won an auction for this set decoration used in Blade Runner. There were two of these hanging in Sebastians apartment (see the screengrab,they're on the right hanging on the wall.
I hired a carpenter to make a custom display stand. It's mounted to the wall due to its height.
 It features functional lighting that wasn't used in the movie. I'm not sure why cause the lighting looks great.
 I'm pretty happy with it. Friends ask what it is. I plug it in and tell them "I don't know,but don't stand too close to it because it'll give you hallucinations" ;)