Here's a first look inside Dark Horse Comics' upcoming Prometheus series!
Written By Chris Picard on 2014-03-28 16:57:46
The continuation of Ridley Scott's Prometheus hits shelves on Spetember 10th, 2014 in comic book form! Dark Horse Comics are rebooting their Aliens vs. Predator, Alien and Predator series, with the inclusion of the expanded, Prometheus universe as well! The new series is highly anticipated by fans of each franchise and today, thanks to the folks at io9, we have a first glimpse inside the first issue, Prometheus: Fire & Stone #1. In addition to a few panels, Dark Horse have also released a few new pieces of artwork! See it all below: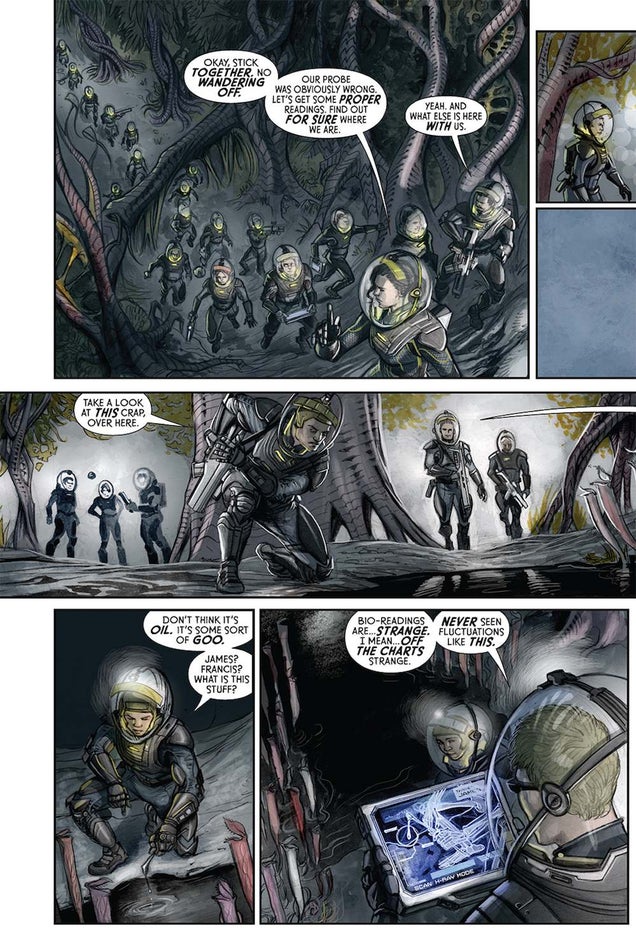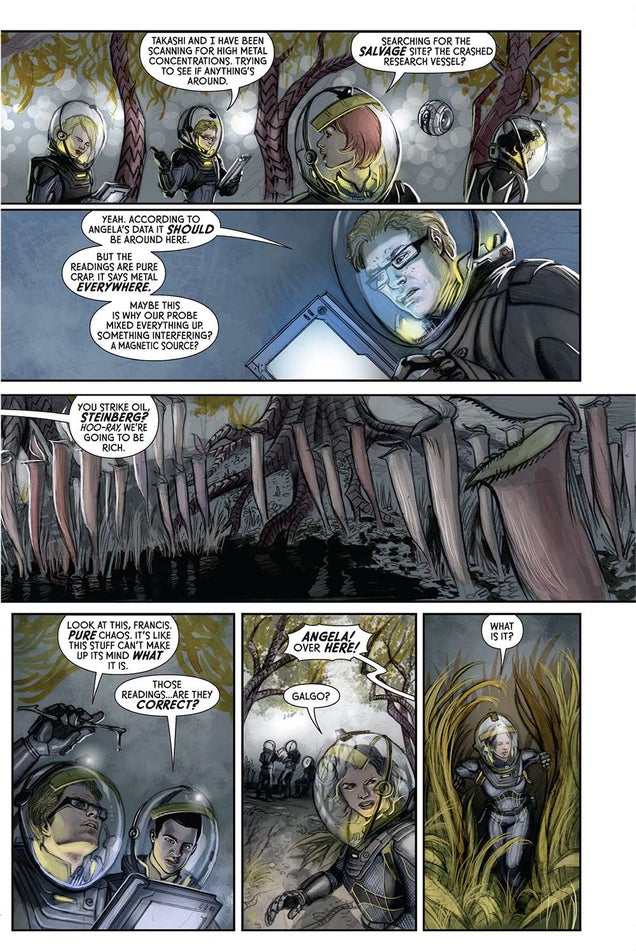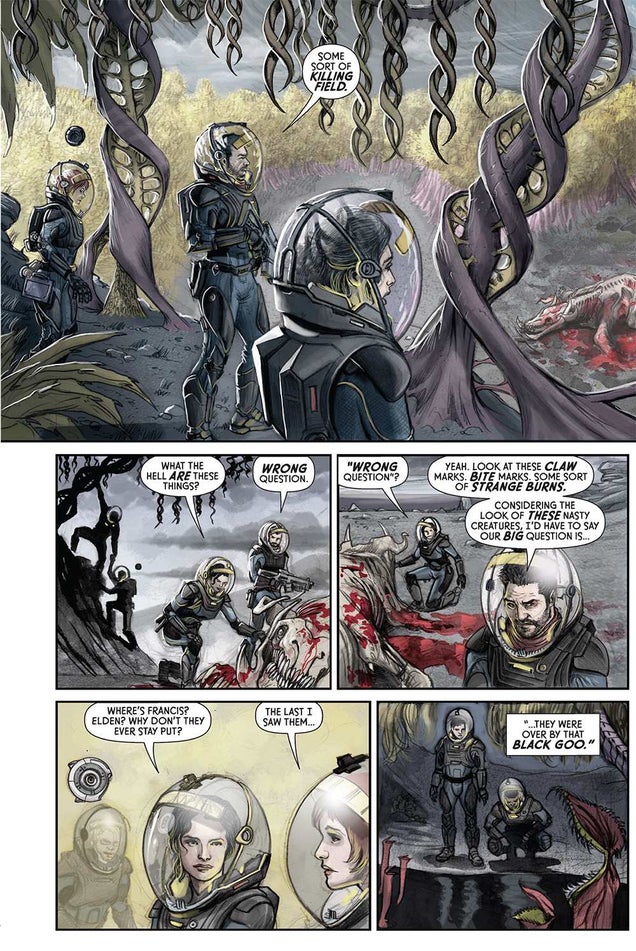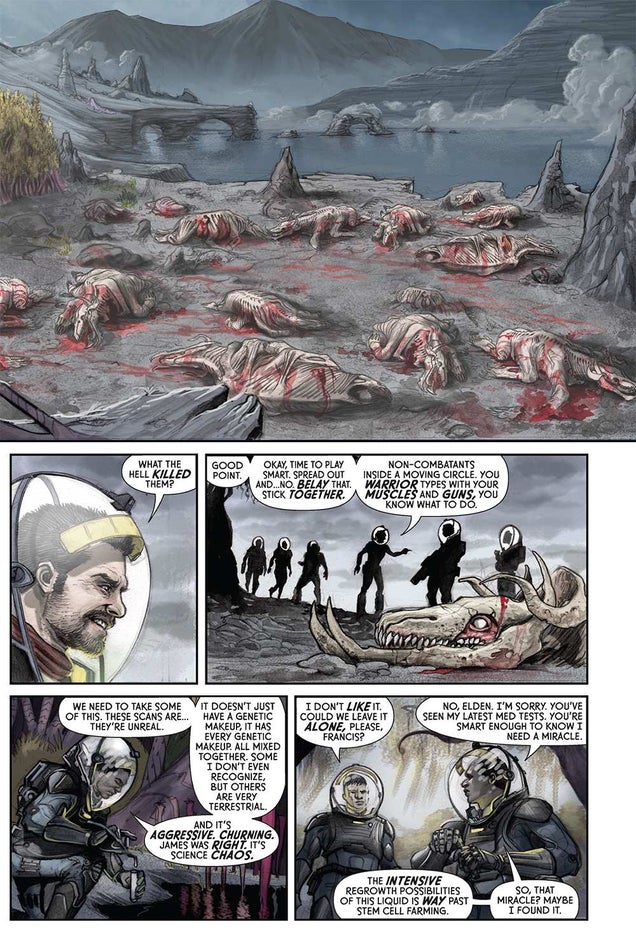 Here's the new piece of artwork which accompanied io9's article, you can see an Engineer in the background near the Juggernaut, Aliens, a Predator and the poor Human souls caught in the middle. Check it out: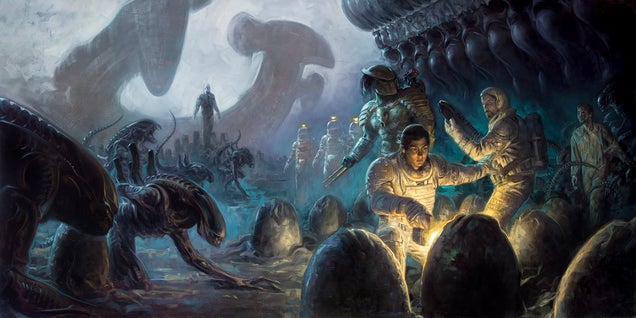 A big thank you to io9 for sharing these new images!
Also, for those reading, who are really looking forward to Dark Horse's new comic series, you will definitely want to keep an eye on both this site, as well as AliensVersusPredator.net TONIGHT for our big announcement. Stay tuned!
In the mean time however, let us know what you think of these comic samples in the comments section below!
Predator 4
2018 Latest Trailer
Film by Shane Black
/5 Not Yet Reviewed
Reviewing for this movie will be available soon
Official Plot Synopsis for Predator 4:
Shane Black returns to the Predator franchise to direct an immediate follow-up to 1987's Predator!
Directed by Shane Black, written by Shane Black, Fred Dekker and starring TBA, Predator 4 releases 2018.
For the latest news and updates on Predator 4 and its cast, characters and plot synopsis, be sure to follow us on Twitter and like us on Facebook!
Keywords: Alien 5, Predator 4, Neill Blomkamp, Shane Black, Prometheus, Aliens, Predators, Movies, News, Aliens vs Predator, AvP, Sequels, Prequels, Comics, Games, Ridley Scott, James Cameron, Sigourney Weaver, Arnold Schwarzenegger
If you would like to contribute to this site and write articles for Aliens vs. Predator, get in touch with the site owner!
Related Aliens vs. Predator Articles
Member Comments
DNA Helix plants... Really??
On the picture it looks as if the Predators and humans are working together against the Engineer and his xenomorph...and why are the eggs outside of the ship?... and what is the guy on the right side doing?
Hope its just a composition of several drawings...
Yeah, Svanyas right, the helix plants are a bit much...
Please forgive me, but I actually kind of like the look of the DNA plants... lol

I'll admit that I enjoyed reading the comic.
And my interpretation of the new image is that it's just kind of a promotional image for their new comics. I like to think of Predator as being separate from Prometheus/Alien.
Other Comments
Aliens vs. Predator News provides fans with the latest plot updates, trailer releases and scoops surrounding Predator 4 as well as the film's release dates, cast and characters. Providing not only official updates but also every scoop and rumor involving Predator 4, fans of the franchise get the broadest coverage while avoiding unwanted spoilers. Fans can also take part in our thriving online AvP forum, where thousands of other Aliens vs. Predator fans discuss, analyze and engage with one another about the upcoming film as well as previous instalments. Being a part of Scified, this Aliens vs. Predator site is also linked to the Predator 4 movie page which also chronicles all updates, cast additions, plot synopsis reveals and every single available trailer and video!
Have a scoop you want you share regarding Predator 4? Send us an e-mail to [email protected] or share it in the AvP forum for thousands of other fans to see!
This article was submitted by one of Scified's volunteer contributors. Every contributor must agree and abide the Scified Site User Agreement. If you represent an individual or company and feel as though this article has infringed on any of our terms or any existing copyrights, please contact us for removal requests.