I decided the Godzilla vs. Destoroyah / Godzilla vs. Megaguirus set would be the most interesting pick since it covers two eras. Plus, I thought it would have a decent balance of fun and technical disc quality. I wasn't entirely correct with that assumption, but I made the most out of it by jotting notes down. Here's what you can expect from Sony's Heisei-to-Millennium transition set: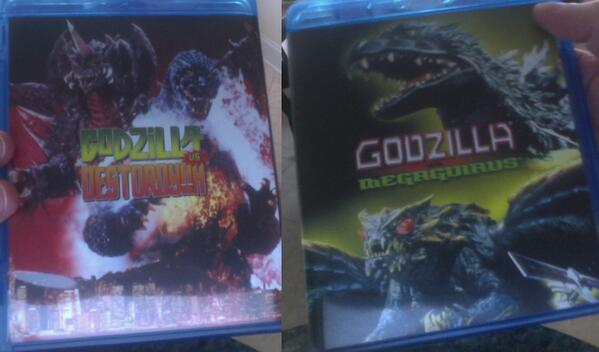 Packaging:
It's a standard, two disc bluray case with a reversible cover slip. The front cover is a tacky template mocked up by Sony to feature art from both films. Godzilla vs. Megaguirus uses the same Sony-shopped cover from the 2004 region 1 DVD release. Godzilla vs. Destoroyah's art, however, is native to Toho's Japanese VHS release from 1996. It's worth noting that, out of Sony's Godzilla blurays, Godzilla vs. Destoroyah is the only one given poster art that didn't resemble its original North American release. (It was a good decision. The region 1 DVD/VHS cover from the late 1990s was appalling.)
The slip can be reversed so the full sized Godzilla vs. Megaguirus cover occupies the front and the Godzilla vs. Destoroyah art covers the back. Both movies get their own bluray disc. Fans hoping to create their own art and separate the films into their own cases can get as creative as they please. The discs are locked to region A.
GODZILLA VS. DESTOROYAH
*
Godzilla vs. Destoroyah is relevant since it's the end of an era. It's to director Takao Okawara's credit that it works as well as it does, but largely when the monsters are onscreen. Other than Miki Seagusa, Kazuki Omori refuses to let the characters breathe past the special effects and drops some good ideas like a sack of bad milk. Character nuance and action keeps the movie afloat long enough for the highly anticipated climax. It's not one of the best of the franchise, but it's a decent flick that's able to bypass its many flaws and revel in its own mayhem.
Picture/Credits:
Godzilla vs. Destoroyah isn't the finest bluray out there, but it's the best I've ever seen this movie. Although the picture is a touch soft I'd be lying if I said I wasn't seeing things I've never noticed. (Including some unwelcomed wire work.) The Heisei series was also shot softer to hide some special effects flubs.
The picture has a fluctuating amount of grain to it. This is mostly evident during the matt shots-- a side effect of compositing. The thing about grain is that it's an inherent trait of film. I for one don't mind a movie looking like film if it was actually shot on film. This isn't a dig at digital movies, but a preference of presentation. Your mileage may very.
International end credits (in English) have been added. If you have never seen the end credits before you'll get a cool montage of the Heisei series under the list of cast and crew.
Unfortunately, an ugly, English title overlay is superimposed on the opening Japanese title card. It's not as glaring as some others, but still a massive turnoff. For those of you who like seeing the original Japanese title without the overlay hold on to those old DVDs. As a minor note the opening credits start before the title card; they begin after on the original Sony DVD.
Sound:
Both the English dub and Japanese track are presented in DTS-HD 2.0 lossless audio. Both tracks are fairly mediocre. The English dubbed audio tends to have a lot of volume issues that carry over from the original Sony DVD. The Japanese track corrects a lot of these problems and tends to balance the sound effects with the dialogue a lot better. It's still muddled, but it's certainly more dynamic than the dub westerners have been tortured by for years.
Subtitles:
The subtitles are very much not dubtitles. Much of the dialogue is completely different from the English dubbed version. Those who have never watched the film in Japanese with subtitles will find a lot of the story makes more sense. There is also a subtitle option for French and English SDH. (Hearing impaired.)
Extras:
Although the only extras are trailers I was shocked at how well they were handled. Three trailers (two teasers, one theatrical) are presented under the extras. Unlike most discs that include Japanese trailers, these are subtitled. The number of trailers, and subtitles, came as a surprise and I was pretty happy with the result. It's a shame there's not more, but I'll give it a pass since I was impressed at how well Sony handled the material provided.
Menu:
Although it shouldn't be a cause for concern, there's no repeat of ADV's Destroy All Monsters DVD here; but it's also nothing fancy. It uses a picture of Godzilla (from the Godzilla vs. SpaceGodzilla poster) tinted red with a fiery-orange backdrop and a lot of photoshopped lightning effects. Below is a selection belt for the film: Play movie, audio, scene selection and extras. Don't expect Echo Bridge's Godzilla vs. Biollante level of menu design...
Consensus:
Flawed, but lovable, Godzilla vs. Destoroyah has never looked better on an official North American release. (Or Japanese for that matter.) Minor picture and sound qualms aside it stands as the definitive region A edition and is a notable improvement over the original Sony DVD. Fans who have yearned to own the complete film in Japanese should be satisfied. Those looking for much more will have to settle for the trailers.
GODZILLA VS. MEGAGUIRUS
*
Godzilla vs. Megaguirus has all the ingredients for an exciting, fun Godzilla adventure, but freshman director Masaaki Tezuka can't seem to put it all together. Whereas Kazuki Omori shortchanges interesting characters, writer Wataru Mimura gives unlikable characters brighter spotlight. The movie works best when Godzilla is on-screen, but even his appearance is marred by a rather goofy, neon green suit. His new adversary feels more like an obligatory subplot than the movie's big event and the whole film is bogged down by an inappropriately sluggish pace. It has moments of striking visuals and stylistic promise, but its never cohesive enough to be more than mildly fun.
Picture/Credits:
The quality isn't altogether poor, but its not very immersive either. The movie actually looks a little older than it really is. Outside of some very minor grain, consistent softness obscures the movie's finer details.
Colors are fairly muted, but that's also the way the movie was made-- perhaps to compensate for how bright and ugly Godzilla looks in contrast to everything else. He really pops out here.
The English title overlay still sits over the impressive opening graphics card, although the font for "Godzilla" has changed from the initial DVD release. The end credits remain intact.
Sound:
Both the English dub and Japanese language tracks are presented in DTS-HD 5.1 master audio. The Japanese audio is much clearer and balanced. The English track's dialogue tends to run a little louder. Some sound effects tend to get obscured, but it seems to be a conscious mixing decision. There's plenty of depth to the sound and I couldn't find a hole in any of my speakers. Overall the sound takes the cake for the disc's most distinguished feature.
Subtitles:
Dubtitle alert! The subtitled script is practically identical to the dub with very minor exceptions. The good news is the dubbed translation is a little closer to the source than most of the post-90s dubs. Just don't expect to get anything new out of the subtitles. Like Destoroyah, Megaguirus includes French and English SDH subtitles.
Extras:
Godzilla vs. Megaguirus includes one teaser trailer and one theatrical trailer. It's a little more disappointing now that the novelty of Godzilla vs. Destoroyah's trailers have worn off. The interesting thing is that the subtitles for these trailers accurately translate the dialogue, pointing out the dubtitle discrepancies present with the disc.
Menu:
With a shot of the Mire/Gira-Goji suit put against an identical background to the one on the Godzilla vs. Destoroyah menu, albeit, tinted blue, the menu is even less aesthetically pleasing. Below is a selection for the film, audio, scene selection and extras.
Consensus:
Godzilla vs. Megaguirus might be one of the weaker entries in the series, but it's not without some merit. Unfortunately fans of the movie are getting a minor upscale from the original Sony DVD. The sound is great, but everything else is much weaker-- especially in comparison to the movie its paired with. If you already own the DVD I would recommend skipping it, but the fact that it comes with Godzilla vs. Destoroyah means more people will end up with a disc they don't need.
Overall:
Godzilla vs. Destoroyah / Godzilla vs. Megaguirus aren't exhibition pieces for the bluray format, but it's a fairly solid set for fans. Godzilla vs. Destoroyah is more than worth the price tag and while Godzilla vs. Megaguirus is a weaker presentation it's passable for those who don't own the film. As long as you don't expect much in the way of extras you'll be pleased.
---
Follow GMAN on Twitter @GMANonScified
*Images are not representative of disc video quality.
Treat Yourself to Sci-Fi Swag!
We've partnered with the folks at TeePublic to give fans the opportunity to support one another and express their interests by owning customized, unique merchandise based on their favorite science fiction franchises! Designs are created by fans and a portion of proceeds from each sale go to supporting the artists and their work! Check out the entire store and see if anything gets your attention!