Here's a first look inside Dark Horse Comics' upcoming Prometheus series!
The continuation of Ridley Scott's Prometheus hits shelves on Spetember 10th, 2014 in comic book form! Dark Horse Comics are rebooting their Aliens vs. Predator, Alien and Predator series, with the inclusion of the expanded, Prometheus universe as well! The new series is highly anticipated by fans of each franchise and today, thanks to the folks at io9, we have a first glimpse inside the first issue, Prometheus: Fire & Stone #1. In addition to a few panels, Dark Horse have also released a few new pieces of artwork! See it all below: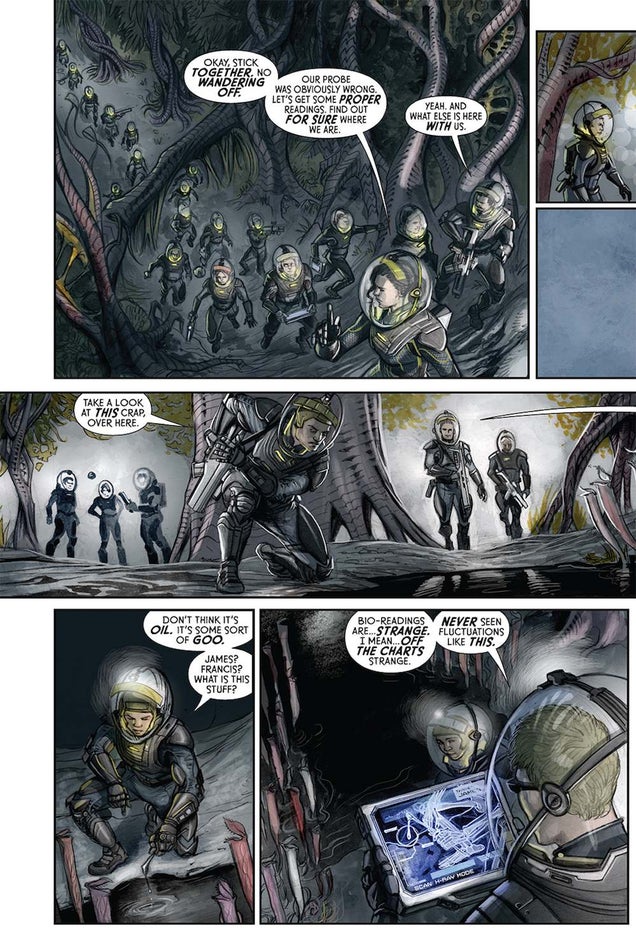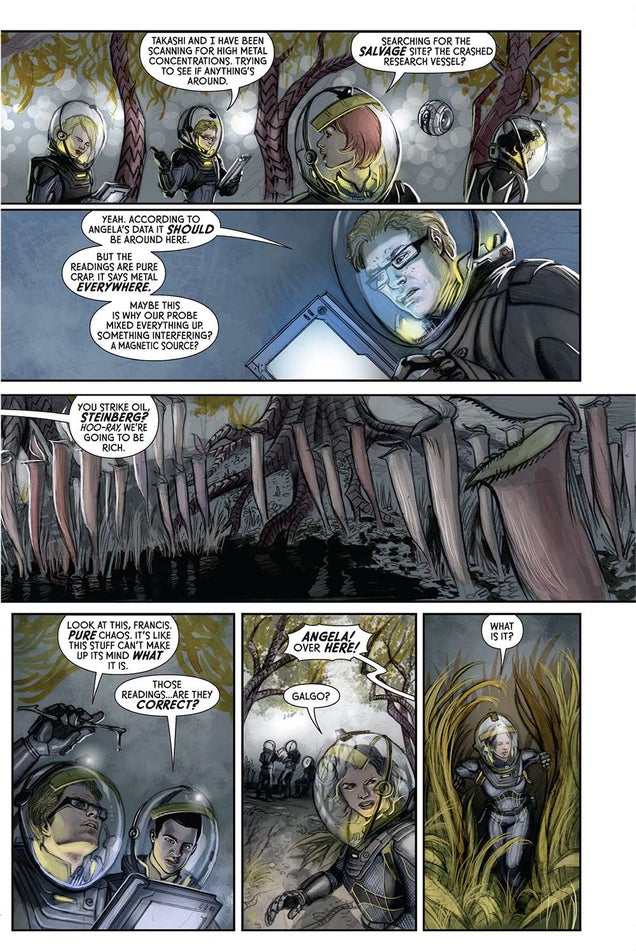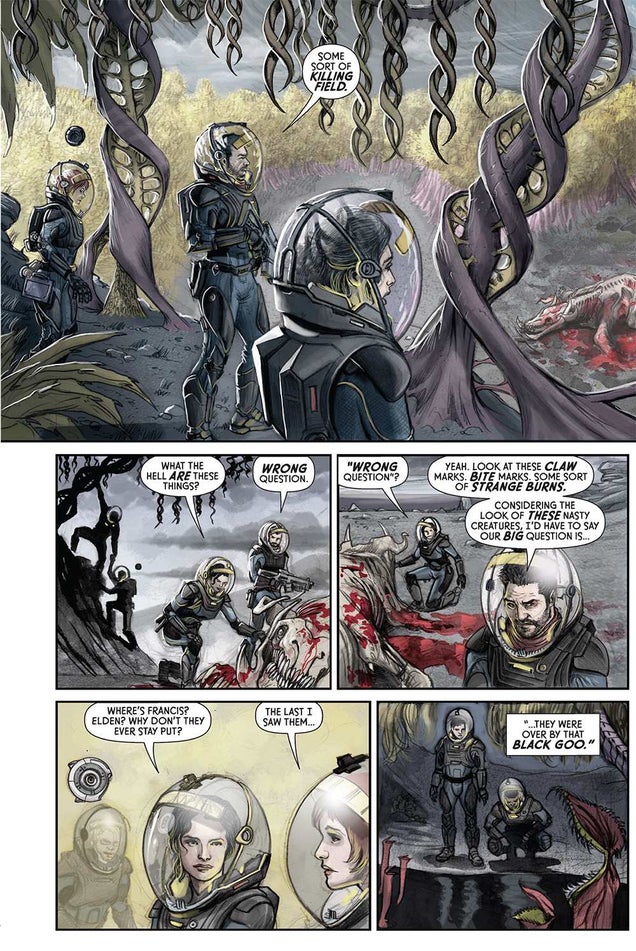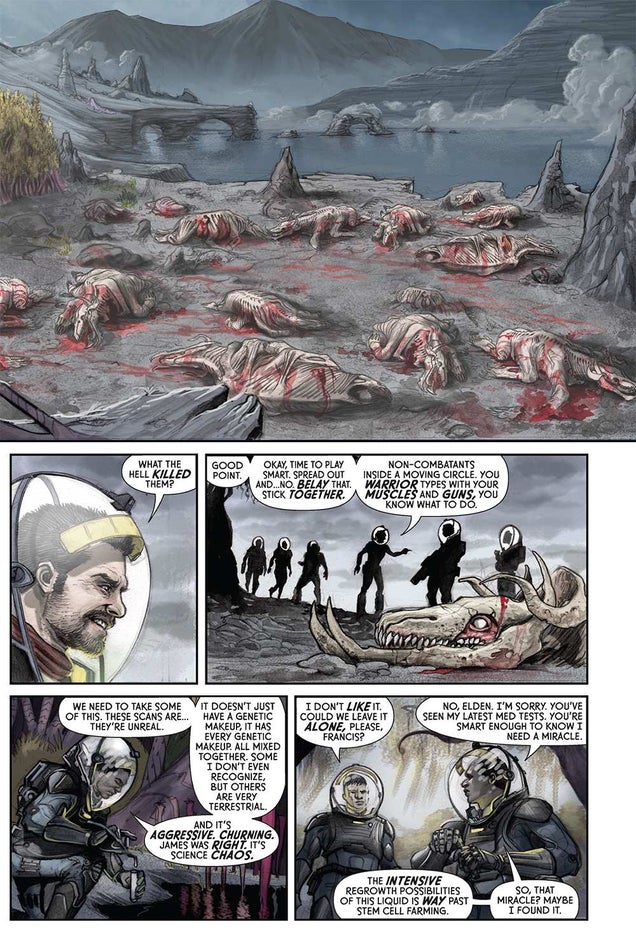 Here's the new piece of artwork which accompanied io9's article, you can see an Engineer in the background near the Juggernaut, Aliens, a Predator and the poor Human souls caught in the middle. Check it out: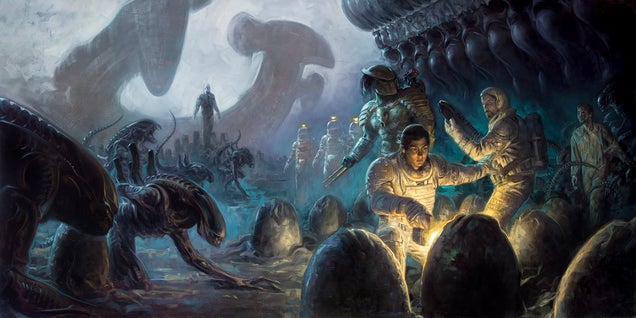 A big thank you to io9 for sharing these new images!
Also, for those reading, who are really looking forward to Dark Horse's new comic series, you will definitely want to keep an eye on both this site, as well as AliensVersusPredator.net TONIGHT for our big announcement. Stay tuned!
In the mean time however, let us know what you think of these comic samples in the comments section below!
Directed by Paul W. S. Anderson, written by Paul W. S. Anderson and starring Sanaa Lathan, Raoul Bova, Lance Henriksen, Ewen Bremner, Colin Salmon, Tommy Flanagan, Joseph Rye, Agathe de La Boulaye, Carsten Norgaard, Sam Troughton, Petr Jakl, Pavel Bexdek, Kieran Bew, Carsten Voigt, Jan Pavel Filipensky, Adrian Bouchet, Andy Lucas, Liz May Brice, Glenn Conroy, Eoin McCarthy, Karmen Adebibe, Tom Woodruff Jr., Ian Whyte, Jospeh Balderrama, Alec Gillis, Alien vs. Predator hit theaters August 13th, 2004.
For the latest news and updates on Alien vs. Predator and its cast, characters and plot synopsis, be sure to follow us on Twitter and like us on Facebook!
Watch the latest Alien vs. Predator trailer:
Keywords: Alien 5, Predator 4, Neill Blomkamp, Shane Black, Prometheus, Aliens, Predators, Movies, News, Aliens vs Predator, AvP, Sequels, Prequels, Comics, Games, Ridley Scott, James Cameron, Sigourney Weaver, Arnold Schwarzenegger
Submit Your Own Review Of Alien vs. Predator
Must be Logged In
Learn How
If you would like to contribute to this site and write articles for Alien & Predator News, get in touch with the site owner!
Member Comments
DNA Helix plants... Really??
On the picture it looks as if the Predators and humans are working together against the Engineer and his xenomorph...and why are the eggs outside of the ship?... and what is the guy on the right side doing?
Hope its just a composition of several drawings...
Yeah, Svanyas right, the helix plants are a bit much...
Please forgive me, but I actually kind of like the look of the DNA plants... lol

I'll admit that I enjoyed reading the comic.
And my interpretation of the new image is that it's just kind of a promotional image for their new comics. I like to think of Predator as being separate from Prometheus/Alien.
Other Comments
This article was submitted by one of Scified's volunteer contributors. Every contributor must agree and abide the Scified Site User Agreement. If you represent an individual or company and feel as though this article has infringed on any of our terms or any existing copyrights, please contact us for removal requests.
Scified ➙ Sites ➙ Posts ➙ Alien & Predator News ➙ Here's a first look inside Dark Horse Comics' upcoming Prometheus series!
Aliens versus Predator Discussions
Related Alien & Predator News Articles
Alien vs. Predator
Plot Synopsis
Two legendary alien species bring their lethal rivalry to earth in a spectacular battle destined to be the ultimate confrontation. In the early 21st century, the discovery of an ancient pyramid buried beneath the ice of Antarctica draws a team of scientists and adventurers to the site. But unknown to the explorers is the presence of Alien eggs ready to hatch, deep within the pyramid. Back on the surface, Predators arrive to perform a coming-of-age ritual. With time running out the humans find themselves trapped in a battle-to-the-death between two alien races bred to kill.
Release Date: August 13th, 2004
Directed By: Paul W. S. Anderson
Trending Posts